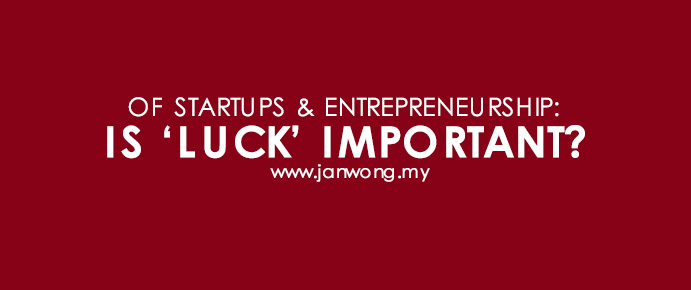 "Luck" has always been an integral part of the Lunar New Year celebrations.
During this season, friends, family, loved ones, colleagues and advertisements all shout and wish for a "lucky" year ahead. But what exactly is "luck"? People usually associate luck with good fortune, having beat the odds to obtain or reach somewhere supposedly unattainable with effort alone – but is that true?
Luck is a combination of effort and action
Personally, I do not believe in luck. Luck, or a 'good chance', is only possible when you take action, not sitting around waiting for something to happen.
Sometimes, that action can be as small as making that one phone call, reading that book, attending an event, writing that first line of code or just talking to a friend.
Speak to most successful entrepreneurs and they'll tell you that it is not by luck or chance that they got to where they are today. It's a combination of their efforts and actions that created the breakthrough moment needed; be it meeting countless VCs, pitching door-to-door, bootstrapping from scratch, hustling through nights without sleep, not receiving wages from the company or making active cold calls – these actions made that chance happen.
Sure, not all action will result to success. But even if it fizzled, at the very least, you were a step closer than before.
If you're serious in starting or running a business, you need to stop waiting for that chance or luck to take place – because it will never happen unless you make it possible; the same goes to your university grades, your career, your relationship, or even that weekend game you'll be participating in.
The truth is, you're just procrastinating your actions and blaming it on luck. If you're dissatisfied with where you're at now, it's time to come out, take action and create that chance you've been waiting for.
Opportunities only come to those who knock. Will you take action today?