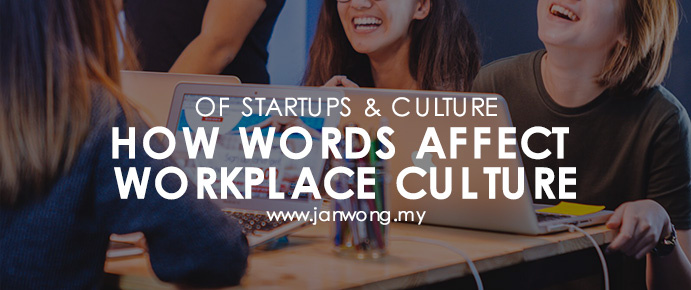 Words are powerful. The right words used can motivate, inspire, build and encourage; but also to tear down, hurt and crush.
While that sounds like common sense, the words we use tend to roll out a little too freely and we justify that by calling it a freedom of speech or as a form of expression. And this freedom contributes to the culture you are building in your company, be it a startup or corporate organisation.
Culture is not something where you frame up in your board room nor is it a string of (vague) fancy words to sound cool. It starts and sticks with the smallest detail – like the conversations that happens surrounding work.
A negative complaint, a passing remark, a jab toward your superiors, clients or vendors, sarcastic responses, a common curse word or phrase when faced with an unfavourable situation may all seem very normal in a social context but can very well be contributing factors to productivity, morale and growth both individually and collectively within the company, and here's why:
#1: Words stick
If you recall a random not-so-nice remark made by someone towards you, or just a simple compliment about your hair, that already shows that words do stick – and they do, no matter whether you like it or not. And for many, these words stay with you consciously or unconsciously for the rest of your career / life; and the negative ones haunt you at your lowest.
#2: Words affect your team
Words said in in jest are the worst! You may not have meant it literally when you said "Yea, the dude has always been lazy and useless to the team." but this sentence alone can spark off many political sidelining within the team.
#3: Words affect yourself
"Crap! I'm an idiot!". Say that often enough in every mistake you make and you'll successfully crush your self worth, esteem and confidence over time.
Don't get me wrong here, I'm not saying we should all be constantly positive with rainbows and unicorns in the sky, or that we should always be hyper-sensitive with what people may feel when we speak – that's self limiting and frankly, will drive you crazy.
Instead, remember that the words we use are a choice. It's easier said than done but if we remind ourselves of the bigger picture of what we want to achieve in our workplace and as a career, we can redefine and switch the words we choose to say to create a better workplace culture.
Culture starts with people, and that's you.