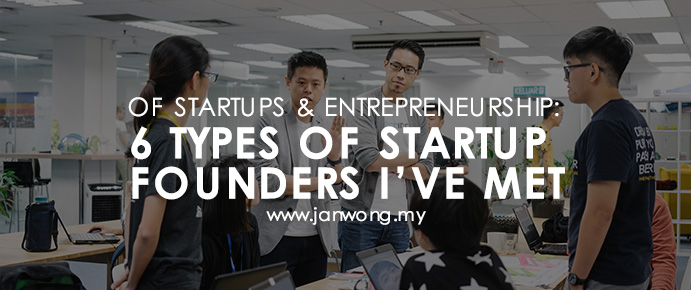 I just got back from mentoring at Startup Weekend KL last weekend and had the privilege to meet over 60 enthusiastic aspiring entrepreneurs and founders, all eager to get their ideas off the ground.
Based on all my conversations with founders from different age, background and industry over the years, skills and mindset aside, they seem to fall into either one of the below category of founders. Are you one of them?
The fundraisers
More common in younger founders these days, they are all about the market size, market potential and valuation – in hopes to raise funds. While there's nothing wrong with that, the tendency of these founders is to first raise, then build. They are usually driven by monetary goals, acquisitions and funding rounds, sometimes to the extent of losing their product and purpose; thus often leading to giving up even in the early stages especially when there are no desired monetary results.
The problem solver
Problem solvers are founders that cannot sit still. They are always on the look out for problems and are not satisfied with existing solutions; believing that there is a better, more engaging, optimised or cost effective experience out there – and takes it upon themselves to solve it. These are founders that believes in scratching their own itch. If they can code, all the better as they'll attempt to build a solution out of it, sometimes even just for the fun of it. However, it is also a challenge for them to stay put on a single idea for long – they are always on the move for a new problem once the previous is solved or when the novelty runs out.
The show off
You may have come across some of these. These founders are often found in networking events and seen flaunting their lavish entrepreneurial lifestyle across social media leaving motivational quotes or videos. When asked, they usually run multiple 'companies' but aren't able to tell you exactly what they do, there's no clear product or service, doesn't really have a team, or more commonly, are involved in multiple multilevel marketing schemes instead. Also, they build their reputation by associating themselves with other founders in fear of losing out through selfies with them.
The been-there-done-that
Founders from this category consist of those that has either made it and is satisfied of their achievement, or those that are still in it but has became complacent for various reasons. The former are usually veterans (not necessarily in age but in experience too!) that has been in business, seen returns and is happy with what they already have thus decided to sit it out. They can be challenging to speak to at times, as they often result to give you advice even when not asked. The latter though, are usually in business and has become sustainable, but has no intention of innovating and growing it further. They tend to think this is the most they can do and is reluctant to step out of their comfort zone.
The 'forever founder'
These are, in my opinion, the most annoying bunch. They are usually found in startup events, conferences, accelerator programmes, pitching competitions, hackathons and exchange programmes – and never came out of them. While the intention behind is always understandably good, these founders would typically have built nothing sustainable past the 6 to 12 months mark. Some would've won competitions and received recognitions, they understand the ins, the outs, and usually passionate about startups and are always out for new ideas, learning and networking; but hardly has anything down.
The hustlers
My favourite people are the hustlers. These are founders that have put their backs to it and built their companies through grit and sacrifice. They are not perfect and will never claim to be, has the ability to build a team that covers where they lack and believes in their value proposition – and they show it, be it with or without funding, support and experience, they find ways to make things work. Speaking to them is always most interesting and inspiring but they can be the most lonely primarily because this bunch devote their lives to their passion; often sacrificing casual activities and not many can keep up with them.
Do you know anyone from any of the categories above? Note that this list is not conclusive and has no scientific research whatsoever and is compiled based on just me getting to know founders over the years. As such, it may not best represent every founder out there as founders are typically complex creatures