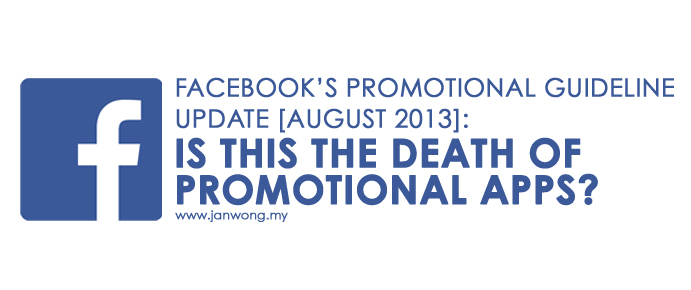 You've heard it, Facebook recently made it clear that running contests and promotions on brand pages is now legal. The once strictly regulated rule is now demolished, leaving social media marketers plenty of room to explore new possibilities WITHOUT the need of a Facebook promotional app.
To put it simple, brands will no longer need to spend on Facebook contest apps such as Binkd or Wildfire as they can now run simple contests such as sweepstakes or giveaways as they please. Hurray for the budget conscious!
Does this mean that Facebook promotional apps will now be irrelevant?
Not quite. In fact, it increases the potential of Facebook promotional apps and here are 10 reasons why:
1. Collection of database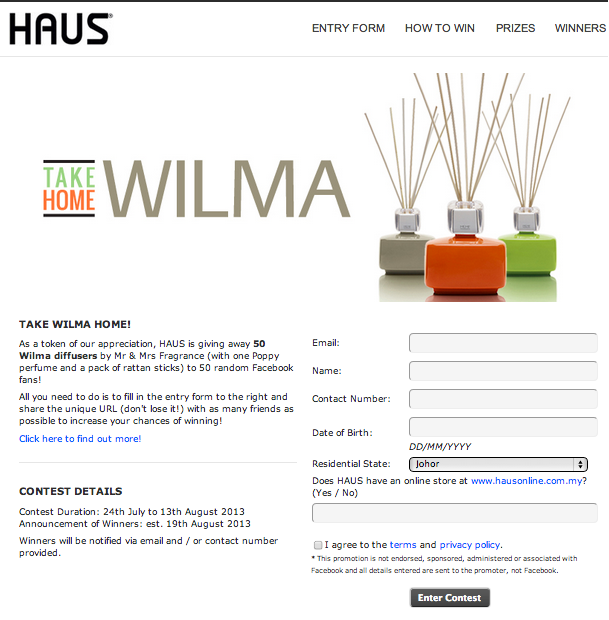 Apart from increasing engagement, brands usually run promotions to grow their database and while accepting entries on the Timeline is now acceptable, collecting customer data will prove to be a challenge.
This is simply because customers will be posting their personal details such as their contact numbers, email addresses and other common contest requirements openly when Facebook apps usually provides…
2. A sense of privacy
This is obvious. You present your fans with a private form where they can submit their personal details to you and nobody gets to see them but you.
This is exceptionally important when sensitive data such as their identification card number or home address is required. Having fans to submit their entries openly with those data made public will definitely raise eyebrows.
3. Sense of security
The only way for a Facebook app to run is to have a valid SSL security certificate (yes, it is a requirement). This means that all data entered from your fans are encrypted to prevent a third party from stealing them.
With this basic necessity in place, your fans can be assured that they are in a safe environment when providing their personal data to you as compared to posting them on the Timeline.
4. Backend monitoring and control
By now you should be wondering, if point #1 to #3 above is all about customer data, wouldn't it be solved by getting them to send in a private message instead for you to manually compile them into a spreadsheet?
Good thinking. And yes, that works too. But what happens when you gather 50 entries? What about a hundred? A thousand, maybe? The manual workload involved is not worth the time.
With a custom developed Facebook promotional app, you can have a backend control panel for you to effectively and efficiently monitor and manage all submitted entries and even export it to a spreadsheet within a click of a button.
5. Performance reporting and analysis
Understanding the performance for your promotional contests are important and yes, you will have access to Facebook Insights with the beautiful charts and numbers laid out but hey, is that enough? A quick look into Facebook Insights will tell you the reach of your promotional post, new fans gained with the period and etc. What about conversion rates? What about participation trends broken down by time and demographics?
6. Flexibility and space for content
One of the biggest challenge of running promotions or contests on Facebook is the content, or rather, the messaging of the promotion itself. In most situations, the text and visuals used plays a very important role in conversion. If doing so is already a challenge on a Facebook app, it will be twice (or more) as challenging on the Timeline.
The reason is simple, research shows that shorter status updates work better than lengthy ones, coupled with a visual that stands out on the Timeline. Most promotions and contests comes with participation requirements, mechanics, terms & conditions and the list of prizes in which can be a major challenge in making them concise and presentable as a post on Facebook.
On the other hand, having an app will effectively group all related information into a single location for quicker access and a more direct reference.
7. Minimize clutter on timeline
If you are thinking that the issue of post length can be mitigated by simply splitting them into several posts, think again as you will also need to consider the fact that contest entries may also be submitted on all of the posts made – which can be a major headache. On top of that, your Timeline may be cluttered as there will be a huge mashup of contest announcements, user posts and your regular brand content (which may be drowned by the contest).
8. Easy reference
I don't know about you but I'm not a fan of cluttered timelines. I personally hate it when all the information I need are segregated into separate posts or different parts of a website. Having a specific app developed for a promotion or contest solves this once and for all. All related information, forms and terms are compiled in a single location with a unique URL.
Your brand will then be able to promote the unique URL instead of specific posts especially if you have split your contest announcement into several posts as point #7.
9. Brand experience
It is important for your brand to stand out (and to stick) with your fans during your promotional campaign. I'm not saying that running it on a post dilutes your brand, but it certainly won't be able to give a whole brand experience as compared to doing so via an app.
Imagine participating in a contest via a flyer by a street against filling it up on a purposefully designed contest form – which gives you a better experience? Which projects your brand in a better light?
Having a contest app allows you to create that very same experience by having clear indication of your brand, well written messages and ultimately, the contest form that is built for that very purpose.
10. Deep integration
This is one advantage I love the most about a Facebook promotional app – it allows brands to further integrate their promotion or contests into other backend processes or systems. It can be as simple as a newsletter subscription service, a CRM loyalty programme or even a warehousing system to display any relevant data.
This means that brands will be able to go beyond just running a mere contest and to provide a 'whole' experience from all users. The possibilities are virtually endless with this one!
Bonus: Fan Gate
Running a contest on an app allows you to create a fan gate, that is to condition users to first "Like" your page before participating. This method is also one of the most common ways brand pages have been utilizing to encourage fan growth. You definitely can't do the same when running a contest on your page's Timeline.
So there you have it!
10 reasons why Facebook promotional and contest applications will still remain relevant today and should not be left in the dust.
What are your thoughts? Do you think this Facebook update will cripple contest apps?