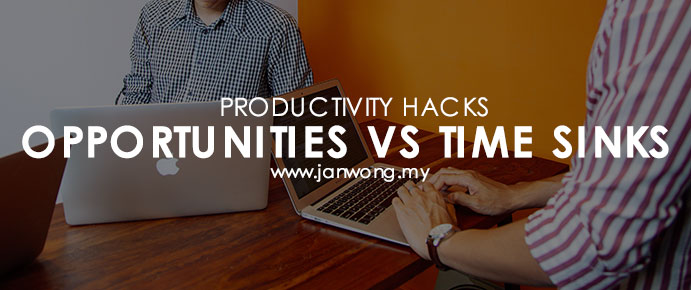 I don't know about you but I really dislike time sinks. You know, the stuff you do everyday that takes a chunk of time off your schedule and yet leaves you unproductive and at the end of the day, you never really accomplished what you've set out to do for the day.
For me, it is things like checking and responding to emails, attending long meetings and administrative work.
While some of these tasks can be delegated but in a startup environment, there are many things you can't just delegate entirely. The team relies on you for support and vision and it's your role to keep everything on track.
To make things worse, there are also many seemingly good opportunities that crop up along the day that will demand more of your time in return for "career progression", "bonuses", "fun" or just "to look good".
These problems are not just unique to startups. It may very well apply to you, wherever or whatever your job demands of you daily.
The trick is to say "no", but how to?
The challenge here is to develop the ability to recognize what are opportunities and time sinks. Identifying timesinks not only helps you focus on what matters to most, it also helps you to free up time to do what really matters to you and here's how:
1. List down your daily routine
2. List down what are your 'must achieves' daily
3. List down your goals (be specific!)
4. Identify which 'must achieves' helps you meet your goals and which doesn't
5. Identify which daily routine helps you meet your goals and which doesn't
6. Cut irrelevant ones, or see if you can combine / automate them to be more effective
7. Build on relevant ones (identify what will help you achieve it better)
Once you've done this, it will be easier the next time when a new opportunity comes up. You can easily say "no" to opportunities that are actually time sinks in disguise.
When done right, you will also realize that the most effective way to minimize time sinks is to create routines and transform them into a habit.
For me, I allocate certain time and days solely for meetings. This allows me to know for sure that I do not need to deal with meetings that may compromise my daily goals on other days and help me be more productive that way.
From a business and startup perspective, it also helps me to identify which opportunity is worth pursuing and evaluate existing opportunities that are becoming time sinks.
This may sound tough (and it is) in the beginning, but it gets easier as you continuously practice it and you will be able to do it automatically without physically creating lists again (thus saving even more time).
What are your top three time sinks daily?