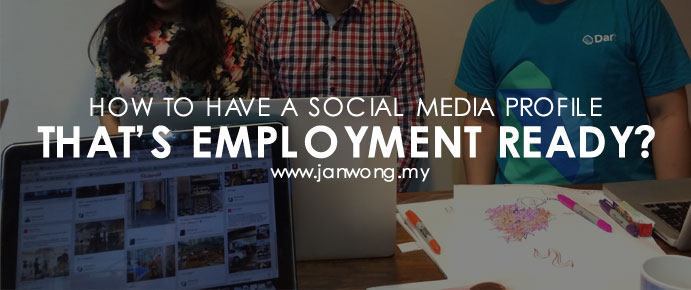 Most of us have Facebook accounts and it is clear that Facebook has been the place for many to post up their lives (sometimes mindlessly) onto the social network giant – which leads to a common problem among job seeking graduates – the need to set their accounts on "private" just to escape from prying eyes.
Of course, your reason may be less complicated than that but this leads to a bigger problem. Believe it or not, many employers today will look you up on social media platforms or via a simple Google search. With your profiles set on private, you are more likely to raise the eyebrow of your employers. And to some, you just lost brownie points even before the interview began.
Here's a thought: Instead of locking down every trace of social media activity you're doing, why not lead them unto channels that you want them to see instead?
#1: Get unto LinkedIn and keep your profile updated
This is the most obvious response to the matter and yet many people don't do it. Having a professional profile not only helps you look 'ready', it also helps you to showcase your profile much better than Facebook does. Things to remember when creating a LinkedIn profile:
Have a clear (professional) headshot of yourself
Make sure your profile is complete
Setup your portfolio (if any)
Start posting relevant content
My highlight on LinkedIn: While I have never used it to apply for a job before (though it's an excellent tool to do so!), LinkedIn has been the source of job offers and connection to key industry personas for me. Not only I have been offered positions in different parts of the world, I've managed to be in touch with people I never thought possible such as in TripAdvisor, university researchers and more.
#2 Start Blogging
Blogging is a good way to get yourself noticed. It shows what your writing capabilities, your thought processes and it can effectively demonstrate yourself as a thought leader among your peers.
Here are 3 things to consider when you're blogging:
Identify topics that relates to the industry you're pursuing.
Your writing does not need to be groundbreaking or profound, it can be very well be your thoughts or commentary on recent happenings in the industry.
Do it as regular as you can. Start with once monthly then slowly move up to weekly, or daily if you wish.
My blogging highlight: My blog has been a great tool for me over the years. It helped me attract a range of job offers, speaking engagements, and great business opportunities that I probably will not receive through other means. In fact, one of my biggest client to date was from my blog and they are still with me even after 2 years.
#3 Tweet!
Twitter is a great tool to build networks and to stay updated with what's happening around. I personally use it to keep myself on the pulse of the digital marketing and entrepreneurial scene.
Keep your tweets public
Follow and Retweet thought leaders
Share relevant articles
My tweet-rific highlight: I must admit that I'm not most active on Twitter. However, through Twitter I have built some really awesome connections with some of the industry's top personalities like Mark Schaefer, Jean Parks, Aaron Lee, Leo Widrich and more. The pinnacle of my highlight though, is the fateful 'meeting' with the awesome people at Binkd (Adam and Kiera Pedley) where friendship evolved into a business partnership where I now manage the SEA operations of Binkd from Malaysia.
Pro tip:
Find ways to build your net worth digitally which will in turn lead you up the credibility curve. It is never too early (or late) to start!
There are many other ways to make yourself intentionally visible to potential employers and the above is just a tiny peek of what can be done. Like photography? Use Instagram to show off your work instead of posting constant selfies. Like making music? Stop watching and admiring famous YouTube celebrities and work towards being one yourself. Like designing? Showcase your work on Behance, Devianart or even try your hand at Threadless.
What are you doing now to be visible to your potential employers? Are you facing any challenges?