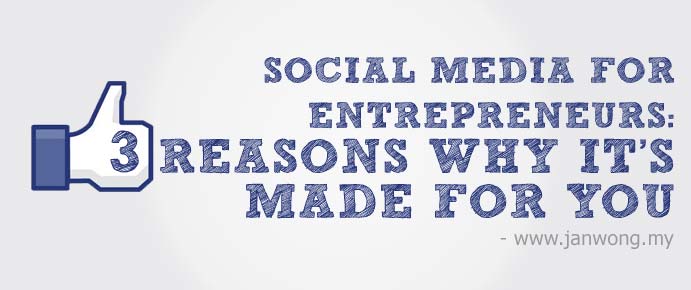 Note: This is Part 2 to the Social Media for Entrepreneurs series.
Social media networks are powerful tools for both individuals and businesses. No, I'm not referring to the fact that it has a huge user base (because you will not be able to reach out to all of them anyway) but the ability to do the below 3 amazing things for your business.
Watch the short video below!
If you missed this part in the video above, let me ask you again:
"Everyone, including your competitors are on social media networks. Why are
you

on social media? What are you doing

different

than them?"

That may sound like a simple question but you'll also need to understand the 3 reasons why social media will benefit you as an entrepreneur to understand what can be done:

Note: the below is an excerpt from the video above (with a little extra)
#1: Social Media Levels the Playing Field
Social media is all about building a relationship with your target audience in a two-way conversation. It is not meant to be collected and admired upon. This also means that brands with huge budget cannot directly purchase success on social networks, unlike on print ads where visibility wins. High visibility does not guarantee a growing relationship with your audience.
On top of that, these social media platforms often go through updates (like the recent Facebook timeline update). Big brands have to keep up with it as well and there are no shortcuts to it.
#2: Social Media Can Be (Very) Targeted
One of the advantage social networks have over traditional mediums is that it can be a whole lot more targeted. Not only it allows you to target potential customers in a specific location, gender, age or interest (such as in Facebook Ads), it can also be used to target conversations (on Twitter) or even current locations (on FourSquare).
This means that entrepreneurs today have the ability to reach out to their target audience specifically without spending unnecessarily while effectively meeting the 'wants' of a customer.
#3: Social Media is a Network of Networks
Many people limit their networks to their immediate friends or followers, thinking that it is only them that they are reaching out to and this is a flawed concept. One of the main benefits of social networks is the ability to tap into the networks of your friends or followers. This can be done through the 'sharing', 'retweeting' or 'recommend' feature on Facebook and Twitter.
How else can social media benefit you as an entrepreneur?
Next up in Part 3: The 5 Realities of Social Media
This is Part 2 to the Social Media for Entrepreneurs series. Quick access to the series below:
[ Introduction | Part 1: The Basics | Part 2: Why It's Made for You | Part 3: The Reality | Part 4 ]
Disclaimer: The video was recorded as part of the RU Ready series targeted to entrepreneurs in Malaysia by Prudential which I was involved in. This also happen to be my first ever video series :)