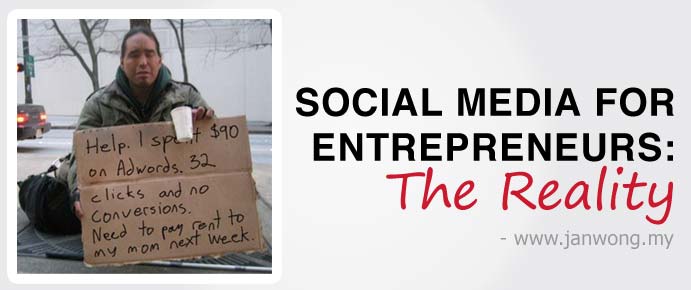 Note: This is Part 3 to the Social Media for Entrepreneurs series.
With the many benefits social networking platforms have, it is no wonder many that are new imagined being 'social' is easier than it actually is. After all, you probably already have a personal Facebook or Twitter account in which you're up-keeping well.
Unfortunately, having your business on social media isn't something (as) easy.
The difference is this – on your personal page you're free to share and talk about anything you want and let's be honest, the main reason you're spending so much time on these platforms is because it has been, and continues to be all about yourself; and you keep track (or stalk) your friends' latest happenings.
And that does not happen with your business. Watch the video below on the reality of social media.
The 5 Realities of Social Media An Entrepreneur Should Know Of
Note: this is an extension of the video above
#1: You're not connected as you think you are
It is always a good idea to first reach out to your existing networks (friends or followers) when putting together your business page. However, the friends you have may not be fans of your business. Even if they are, they may not necessarily be your potential customers. And you're certainly not connected to all 800 million people on Facebook. Which also means that your business is hardly global.
#2: It won't be a case of increasing sales
At least not so soon. Social media platforms should never be seen as an answer to low sales simply because it never is a sales platform to begin with. It says 'social' for a reason. Don't get me wrong – sales CAN happen but it will be a result of communication and relationship building, not through blatant advertising.
#3: It is not easy. At all.
Just like starting up a business or a new website, it isn't easy at all and there are many reasons to it. Whether it is marketing strategy, customer acquisition or retention, they are also valid (and prevailing) challenges on social media platforms so much so that if you think that getting started is tough, you're wrong. It's tougher ahead.
The frequent changes and updates in technology, the fact that you're dealing with consumers that continuously demand, and the time required to be seen as 'present' on these platforms for people to take notice of your business is sufficient enough to get you going for as long your business is running.
#4: It isn't free either
Speaking of time (in #3 above), time isn't free, and by now you should have noticed the heavy involvement / requirement of time on social media. You need time to build connections, to create conversations and the dedication to make it happen for you.
This also means that you may have lesser time to do (actual) business thus losing out on potential sales elsewhere. If you choose to hire, there are costs involved as well. Sure, the platforms such as Facebook and Twitter are free, but the calculation does not stop there.
#5: And it isn't a numbers game
Many have said this and I'll say it again – don't ever get caught in the numbers game. In other words, don't spend all your time accumulating the number of followers or fans! Unless your only goal is to look better than your competitor and not get anything out of it, never compete in numbers.
In fact, you can even purchase fans and followers from as low as $5 USD. That's how 'cheap' they are.
Additional read: 8 Grave Misconceptions about Social Media
"Okay, what to do then?"
+ Keep your head in the game and focus on what's most important for your business.
+ Strive to provide value and provide them consistently.
+ Create conversations that is about them, not about you.
+ At appropriate opportunities, give them a reason to share about you and tell them how to.
+ Get them involved in your business through discussions. Hear them out!
+ Encourage them to share their thoughts or ideas.
+ Take a step further to get to know them better, for example, their interests.
+ Don't be all suited up. Have fun! Run promotions, giveaways or share lighthearted resources (don't go overboard though!).
+ Don't automate replies. Being genuine is key.
+ And ultimately, stay committed.
Next up in Part 4: Friend or Foe?
This is Part 3 to the Social Media for Entrepreneurs series. Quick access to the series below:
[ Introduction | Part 1: The Basics | Part 2: Why It's Made for You | Part 3: The Reality | Part 4 ]
Disclaimer: The video was recorded as part of the RU Ready series targeted to entrepreneurs in Malaysia by Prudential which I was involved in. This also happen to be my first ever video series :)
Photo credit: BizOrigin