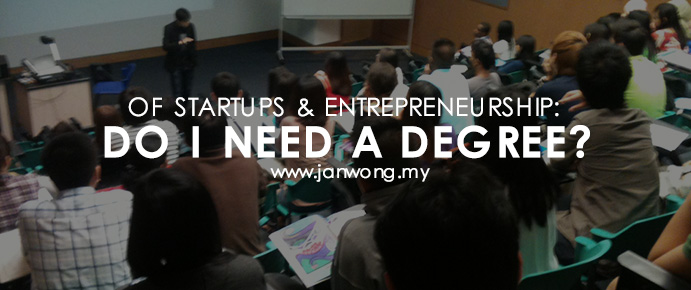 Startups are a trend these days. Most people, especially students dream to live the seemingly exciting life of an entrepreneur, working whenever and wherever they want, making money by the millions as VCs pour in the cash. Ah, what a dream. I don't blame them though, not when the spotlight is often on individuals that raised millions and have "been there, done that" and universities that are riding the wave by throwing in such courses to help produce entrepreneurs. But do they really work? Now, I don't mean to generalize every entrepreneurship courses out there as they are some good ones around. I'm referring to courses that are taught from a classroom environment, through a series of textbooks and case studies, gearing up towards their final assignment in creating a business plan, followed by a 'pitch'. So why NOT a degree in entrepreneurship?
#1: These degree courses are usually led by academicians
With that said, you need to understand that most lecturers (at least in Asia) are true-bred academicians that spent their years inside the academia world. In short, they probably have not started a business, nor worked in a startup-like environment. The result? Textbook based classes that you can get off a book or an article somewhere.
#2: You learn skills that you'll probably never use again
Okay, I'm 50-50 on this one. You do go through some pretty important sessions learning being forced to learn how to work with numbers, finance and accounting that can really help you along the way. I for one do regret not paying much attention to that bit during my degree but hey, I managed to pick it up years later on my own, too! Then again, I also remember being stuffed with theories and learning technology that were already (or at the brink of being) obsolete like flash, COBOL, ASP and the list goes on (mind you, it was the world of HTML5, .NET and PHP frameworks at that time).
#3: In the end, it's the grade that counts
Like it or not, the academic system focuses on grades, which means you will actually need to 'do well' in your attendance, quizes, assignments and exams. I know it sounds pretty harmless, but until a real subjective marking scheme is introduced (i.e. with no right or wrong answers that support multiple different outcomes), students generally have to provide 'the right answer' to achieve good grades – and the truth is, there's hardly the right answer in starting or running a business.
#4: You graduate to find a job
So 3 to 4 years have passed and you've acquired your degree in entrepreneurship, what's next? Not many universities provide a good network of mentors, investors or follow-up programmes for your degree. More often than not, you're left alone.. and you eventually get a job because the norm is as such – to graduate and to get a job.
#5: It's a huge investment of time and money
Those years are a long time and it costs quite a fair bit these days, too! Some argue that the time and money would've been better spent on starting up your first businesses, hit some walls and learn what really matters on-the-go. Others argue that your university days are the best to network, build relationships and to discover yourself better. I don't have an answer to this, but regardless of which path you take, make sure you get your investment back (that's your first business lesson right there); be it tangible or intangible, you need to make the most out of it.
Don't get me wrong.
I am not advocating dropouts or belittling education. In fact, it is the reverse. I am a believer of education and the importance of going through a series of structured education as they do help in one way or another, especially if you have yet to discover your passion.
But the question has always been, "how structured or unstructured it should be for it to really work, especially for degrees like entrepreneurship?".